Predictive Job Analytics Example using Text Mining and Machine learning
Predictive analytics technologies can save companies time and money by reducing manual analysis and prioritisation. As a leading provider of predictive sales analytics applications for B2B, Qymatix wants to present here useful end-of-the-year example. Further cases include predictively spotting opportunity across B2B customers and customer risk analysis.
The Background – New Year, new Job!
We first collected your opinion about job searching in business networks. Between November 22nd and December 2nd, we surveyed 37 managers about it. The insights we gained are:
>> The absolute majority of respondents (87%) uses business networks to find new jobs; 49% use them passively, 38% actively.
>> 81% of respondents find that some vacancies and job recommendations made through business networks fit, and some do not fit at all.
>> We gained two extra insights with our mood analysis in the open text area. A third of all respondents want to know which vacancies would offer "better opportunities". A quarter calls "salary" an important criterion for an application. Further information about the job recommendation is also desired. Negative feelings about Santa Claus were also observed.
The goal of this text mining process is to extract relevant information from both users profile and job suggestions and transform it into an understandable list of priorities.
For candidates actively looking for a job, this technology can make a job search more efficient, by ranking job suggestions based on a predictive analytics scoring. It uses artificial intelligence and makes it easier for business networks' users to:

♦ List their Job suggestions based on a predictive scoring, to save time while looking for a job.
♦ Improve their profiles using artificial intelligence, so headhunters will find them faster.
♦ Start 2019 with a new job!
How does this Example of Predictive Job Analytics work?
Just log in here. It will open in a new window. At the moment it works only with XING. Once you logged in, the algorithms will run through your profile, photo and jobs suggestions. Depending on the amount of data and the load on the servers, this data mining process can take up to two minutes.
On the left menu, you will see the "Jobs Analyzer" and "Profile Analyzer" views, together with feedback, help, and logout links. Above right, you can select the language and start a walkthrough.

Job Analyzer with Predictive and Semantic Analytics
The tool uses several data mining processes to extract relevant information from both your profile and the job suggestions. Prioritize your job search based on our predictive analytics scoring, if you are actively applying for jobs. You can access this list in the "Jobs Analyzer" view.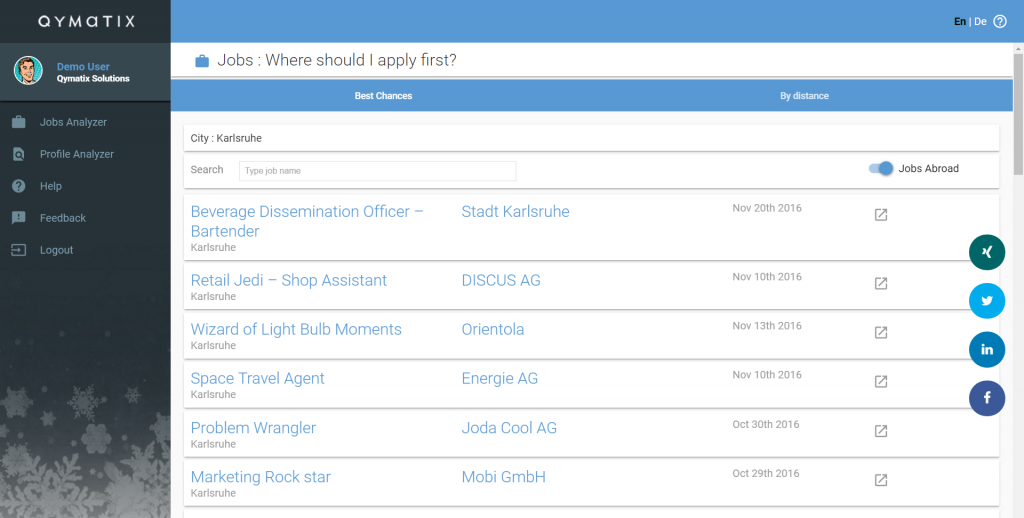 This view has two tabs. On the left, the job suggestions are ranked based on the predictive scoring model. Right, based on distance to your profile's city. You can find the name of your city in the headline. You can toggle jobs abroad.
Profile Analyzer with Predictive Analytics & Image Intelligence
Improve your profile based on artificial intelligence suggestions if you want headhunters and companies to find you faster. In the view "Profile Analyzer" you will find a profile scoring, an image scoring, a summary of your profile and a list of suggestions.
The profile scoring is the overall analysis of your profile. This algorithm calculates the completeness of your profile and the usage of the different profile sections.
Your profile picture is critical. An algorithm analyses your image with the help of artificial intelligence and returns an image score. Good profile images usually include a friendly face portrait; showing an ample smile and some happiness, joy or confidence.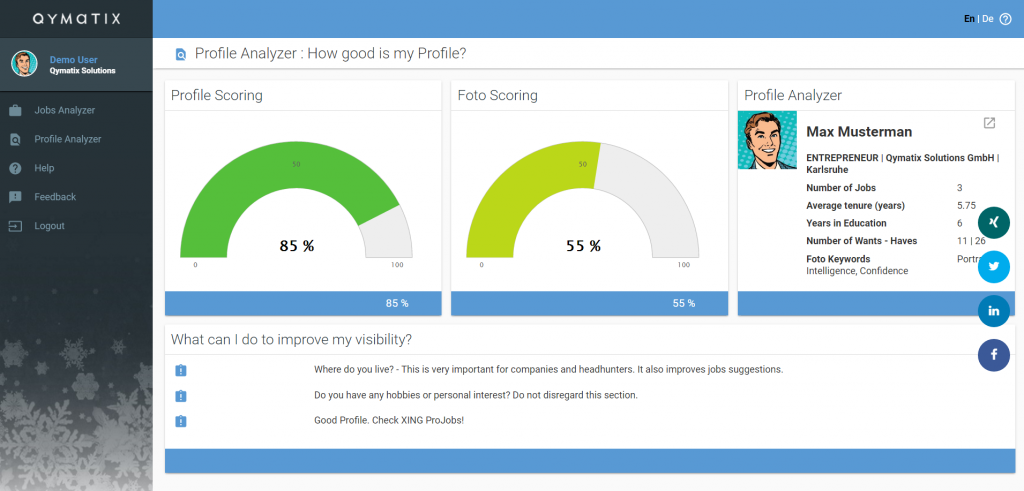 Results are updated after every login.
Did you like our Predictive Analytics Example? Give us feedback & share it with your social networks.
Some questions you might have:
If I use this tool, will my boss know that I am looking for a job?
No, if you don't tell her. We suggest not to tell her. But you can tell your boss and colleagues about Qymatix Predictive Sales Analytics.
Can Qymatix modify or alter my profile?
No, we cannot. We don't want either, it probably looks fine. Just test it.
Is this app for free?
Yes until we change our minds. Take it as an end-of-the-year present for you.
Again: how can I test see this predictive analytics example in action?
Just log in with your user in here. You will see one view with suggestions to improve your profile and a list of job recommendations using artificial intelligence. The results are updated with every login. For the moment it works with XING only.
Is Qymatix Solutions GmbH a recruitment agency?
No, Qymatix is not a recruitment agency. Qymatix Solutions GmbH is an international software company based in Germany working in the field of Predictive Sales Analytics for B2B using artificial intelligence. We just want to present a predictive analytics example built with artificial intelligence. Write us a message if you want to know more about Qymatix Predictive Sales Analytics And if you want to work with us, check our current openings.
Our thoughts about Predictive Analytics
Not all predictive analytics is the same. One of the main risks facing managers in B2B is overloading their businesses with dashboards and non-actionable data visualisation. For a data mining technique based on sales data sets to be effective, it has to present the sales force with specific sales analytics results, not with analytical methods.
Therefore, the most efficient data mining techniques deliver as few key performance indicators (KPI) as possible, focusing instead on the most relevant ones for each situation.
More about Predictive Analytics:
Not Hitting Your Sales Target This Year? Predict B2B Churn – Qymatix Example
Predictive Analytics Interview with Dr. Olivier Riviere
Providing a sales force with effective predictive sales analytics in B2B
The digital future of B2B sales – Expert Interview
Office
Telefon +49 (0) 721 86016373
Telefax +49 (0) 721 174268
E-Mail info@qymatix.de
Qymatix Solutions GmbH
Haid-und-Neu Straße 7
76131 Karlsruhe