Predictive Insights List View
If you click on each of the cards, a re-ordered list of customers will appear, together with an analysis header and expanded visualisation. This list is ordered based on the data analysis you clicked onto.

For example, if you clicked on "potential", Qymatix will provide you with a list of your customers based on its buying potential.
Sorting your customers by cross and up-selling potential enables you to dig deeper into your customer analysis. You can search through your clients and expand each of them. In the enlarged view, a spider diagram will summarise for you the general status of each customer, based on the data analysis described above. Together with each report, a list of future actions will appear.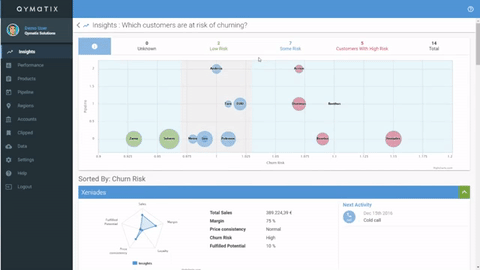 Insights Customer Details
The third layer of customer analysis offers you a detailed overview of the status of the individual customer you clicked into. Remember, when it comes to sales analytics, the focus is critical. That is why you will find only the most relevant information, together with a trend indicator. As a standard analytics application, here you will find KPI such as sales growth, margin per customer, the number of sales plans and sales activities compared to the average across all your clients.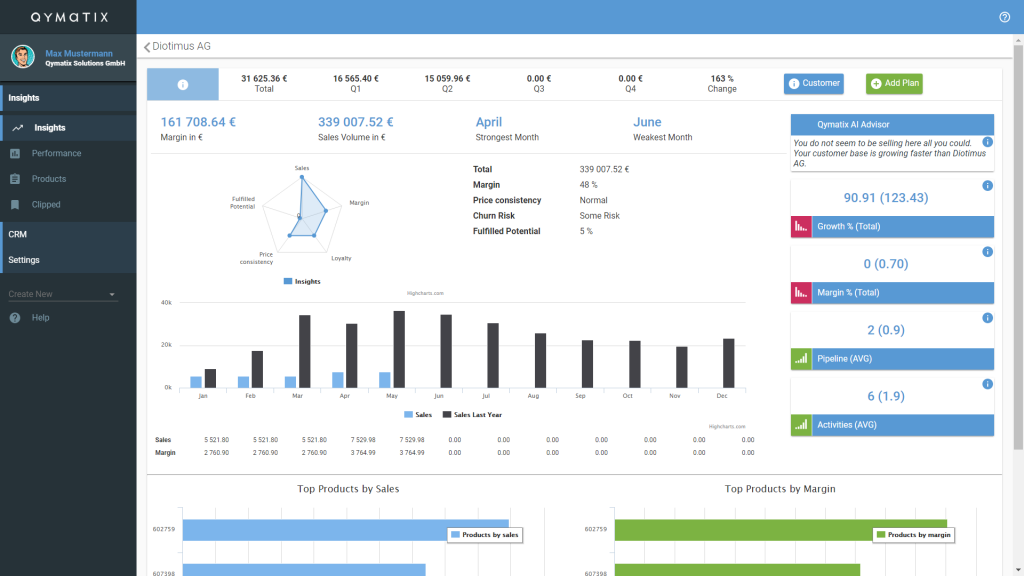 Once you have you have studied the particular current situation of an account, you can create an action or a sales plan. An action is a specific task you or someone in your team needs to undertake to improve or tackle the results of these advanced sales analytics. Remember that analysis without actions will not bring the results you are looking for.