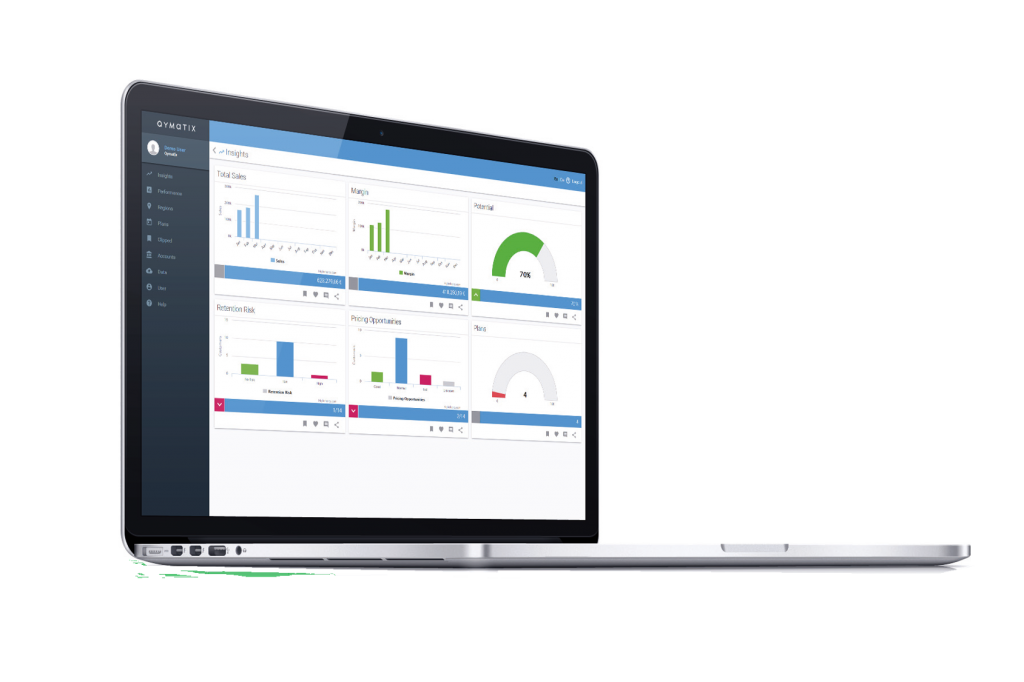 Predictive Sales Insights
Sales insights are the result of advanced sales analytics. They help a sales team to sell more, find hidden opportunities and avoid customer churn. With the use of advanced algorithms for ERP and CRM data mining, Qymatix provides a comprehensive list of sales opportunities and hidden risks, enabling sales leaders to quickly take the appropriate measures.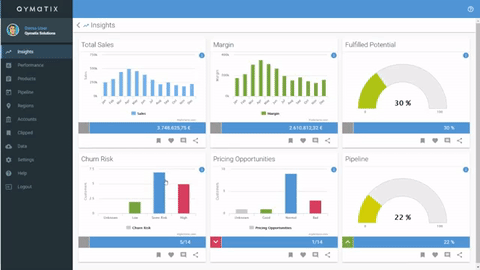 Advanced Sales Analytics
Existing customers are automatically scored for additional cross- and up-selling revenue potential, churn risk and pricing analytics.
In the main view of the tool, sales leaders see the result of six main indicators: total sales and total margin, compared with trends and last year, cross- and up-selling potential, customers at risk or churning, pricing analytics and the predicted status of their sales funnel.
Using existing ERP and CRM customer data, the sales-insights view forecasts which customers are most likely to purchase, churn or pay optimal prices.
Identify your quick-wins, cross-selling and hot projects in one click.
---
Set the right priorities
No more crystal balls or gut feelings. Qymatix offers several powerful non-linear forecasting functions, based on ERP and CRM sales data. Sales leaders can help their sales reps to focus on a limited number of accounts with higher chances of closing a deal or churning. This allows sales teams to address any issues before their competitors find out.
Predictive Analytics for effective Account Management
Qymatix analyses ERP sales transactions and CRM activities and presents only the dashboards and sales visualisations needed to take corrective actions. Sales leaders can share and discuss these results with their Key Account Managers.
This powerful yet reduced number advanced KPIs helps a sales team to discover hidden opportunities and sell more. For example, using cross- and up-selling potential analysis, Qymatix provides a list of customers based on its buying potential.
Set the right priorities and focus on the most promising sales activities. Let your sales team focus to be more effective!
---
Sales Key Indicators
The sales metrics a sales leader use is a key driver of sales force behaviour. Qymatix brings the KPIs needed to measure the effectiveness of a sales team. Performance management is one of the most important tasks of a sales leader. Qymatix helps a sales team to keep focused on the right sales activities and customers.
Self-learning Sales Analytics
With the use of machine learning algorithms for advanced sales analytics, Qymatix provides a comprehensive list of sales opportunities and hidden risks, enabling sales leaders to quickly take the most appropriate measures.
Let machine learning prevent customer attrition and help your team to achieve their goals.
---
Ready to get started?
Find out how you can accelerate your sales with Qymatix Predictive Sales Analytics.
Looking for the price?
Just send us a request for quotation, and we will offer you the right solution for your organisation.
Do you have questions?
We are happy to help you. Qymatix is just a phone call away.
---
"Qymatix helps growing medium enterprises to find undetected business opportunities with existing customers. With thousand active ones in our portfolio, Qymatix Predictive Sales Analytics is exactly what we need."
Daniel Schuster – Welotec GmbH
"Regardless of your company size, Qymatix is the best supplement to your CRM system. Its predictive sales analytics tool helps sales leaders to focus on the projects with the best chances."
Armin Harbrecht – aramido GmbH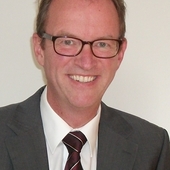 "Qymatix understands the challenges most of the sales leaders in medium enterprises are facing. I was looking for a way to offer my customers useful sales insights with one click, and I found it with Qymatix Predictive Sales Analytics. "
Thilo Oenning – BATAVER Sales Consulting