Highlighted Solutions of Qymatix Predictive Analytics Software for B2B Sales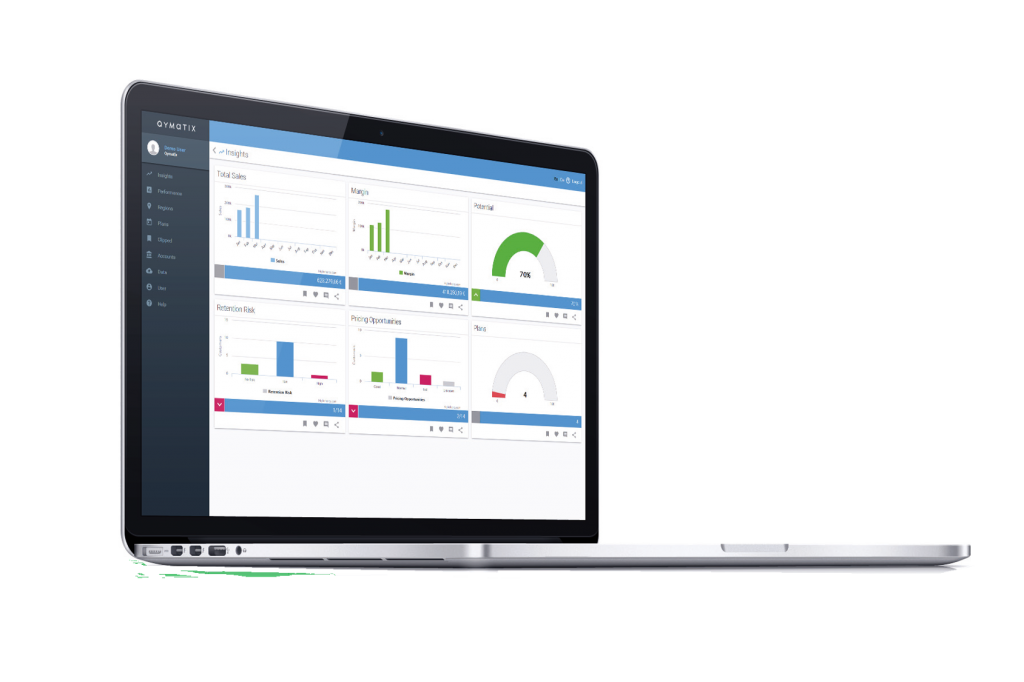 Cross-selling & Upselling Analytics
Qymatix helps manufacturers and distributors to find hidden cross-selling opportunities in hundreds or thousands of customers and products by analysing their sales transactions.
Qymatix automatized market-basket analytics offers a significant competitive advantage and reduces commercial costs.
Use Machine Learning & Artificial Intelligence to Predict B2B Cross-Sell and Upsell.
Customer Churn Analytics
Using machine learning, Qymatix can point you to the customers with a higher probability of not buying again in the following period.
Instead of waiting for a customer not buying again, with the help of Qymatix advanced predictive algorithms, you can provide your sales team with timely advice about possible customer attrition.
Measure and reduce customer churn and attrition with predictive sales analytics.
---
Pricing Analytics
When a company has thousands of products and customers, pricing analytics becomes a significant challenge. Qymatix Pricing Analytics Software provides a sales manager advanced B2B pricing analytics functions, including customer classifications and pricing corridor analytics.
Using several advanced predictive analytics functions and sales data visualization, Qymatix Pricing Analytics Software makes price intelligence per product easy to analyse and to understand.
Effectively control and optimise pricing management with Qymatix B2B Pricing Analytics Software.
Sales Planning
Qymatix helps B2B companies transform data into actionable insights that enable profitable growth.
Using Qymatix AI-based Predictive Sales Software, sales leaders can now analyse and strength their pricing strategies, find cross-selling opportunities, predict customer churn and rapidly expand the sales planning capabilities of their legacy CRM and ERP systems.
Use artificial intelligence for sales planning.
---
Ready to get started?
Find out how you can accelerate your sales with Qymatix Predictive Sales Analytics.
Do you have questions?
We are happy to help you. Qymatix is just a phone call away.
---
"Qymatix advanced predictive analytics helps growing medium enterprises to find undetected business opportunities with existing customers. With a thousand active ones in our portfolio, Qymatix Predictive Sales Analytics is exactly what we need."
Daniel Schuster – Welotec GmbH
"Regardless of your company size, Qymatix Sales Analytics Software is the best supplement to your CRM system. Its predictive sales analytics tool helps sales leaders to focus on the projects with the best chances."
Armin Harbrecht – aramido GmbH
"Qymatix Predictive Sales Software makes customer attrition risks and untapped sales opportunities over hundreds of customers and thousands of products easily accessible."
Hermann Waselberger – AET Entwässerungstechnik GmbH
Free eBook for download: How To Get Started With Predictive Sales Analytics – Methods, data and practical ideas
Predictive analytics is the technology that enables a look into the future. What data do you need? How do you get started with predictive analytics? What methods can you use?
Download the free eBook now.
We will use this data only to contact you for discussing predictive sales KPIs. You can read here our declaration on data protection.